UC Student Success Campaign
The University Center has ventured into a new effort called the UC Student Success Campaign. Gifts to the campaign will support the professional development of student employees by allowing them the opportunity to attend professional conferences and other training events held on and off campus. These training events are provided in person and virtually. We are asking University Center student employee alumni, friends of the UC, and businesses to consider contributing to our cause.
Thank you to all UC student alumni, UW-W staff members and local businesses who have helped get our campaign off to a strong start!
We would like to congratulate the 12 students who have been added to the ranks of our most recently graduated UC student employees. We are grateful for the dedication of: Lily Brossard, Nicole Cullen, Daylen Fisher, Ryan Frencl, Joe Hasenstein, Kaitlyn Hill, Sydney Myers, Ryan Nissen, Lindsey Novak, Kelsey Peshek, Will Samolyk, & Bailee Timm.

Getting U Connected
"Working at the University Center has prepared me for real-world situations after graduation. The UC has given me the opportunity to attend professional development conferences, trainings, and workshops. These trainings and workshops have provided me with new knowledge, skills, and abilities that I can use in professional settings/work environments. During the COVID-19 pandemic, the University Center has done a fantastic job staying connected with student employees through virtual meetings and events. They have also implemented new guidelines to help keep students and staff safe and healthy."
– Uly Quijano-Colunga, Current UC Administrative Assistant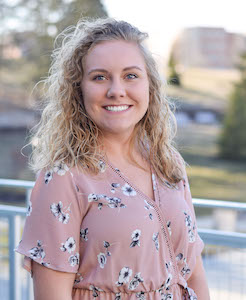 "I have attended the National Association for Campus Activities (NACA) Conference twice, and both times I have benefited greatly from my experiences there. Not only was I able to network with programming boards from different UW schools and other colleges, but I also got to interact with the agencies and artists on a professional level. By attending conferences like NACA, I developed professional skills such as writing and in-person communication."
– Samantha Eibl, UC Entertainment Assistant, Class of 2020
"Having the opportunity to attend the SHRM conference opened my eyes to human resource practices that are always evolving. I was able to take the information I gained at the conference back to the University Center to implement new ideas. The SHRM conference helped my professional development by being able to network with employers as well as gain more knowledge on the SHRM competencies."
– Haley Henricksen, UC HR Intern, Class of 2020
"The ACUI conference allowed me to develop greatly through networking. The first day of the conference, I made a handful of close connections with individuals from different sides of the spectrum for higher education. I was able to ask for business cards and, even after the conference, keep in communication. It is important to keep these connections close because they can lead to new innovations and ideas."
– Natalia B. Hernandez, UC Administrative Assistant, Class of 2017
According to the spring 2020 exit survey given to departing and graduating student employees, 70% of students strongly agreed or somewhat agreed that the UC contributed to their academic success.
Funds from the Student Success Campaign will be used toward professional development opportunities for UC student employees. Some of these opportunities include attending professional conferences, traveling to businesses for field visits, extended leadership training, fees for webinars, Strengths Finder materials, UC Leadership Certificate Program materials, UC Alumni apparel, and other training/orientation supplies.
UC students and staff at the Association of College Unions (ACUI) Region V Conference, November 2019.
National Association for Campus Activities (NACA) Conference, 2019.
Shea O'Malley, Sarah Detig, Kim Adams, and Haley Henricksen represent the UC at the Wisconsin Society for Human Resources Management (SHRM) Conference, October 2019.
Kiley Lofy (UC Botany Intern) highlights student employment as a High Impact Practice (HIP) at the UW-Whitewater Liberal Education and America's Promise (LEAP) Day, February 28, 2020.
Jessica Rossignol (UC Marketing Assistant) receives the Undergraduate Student Award at the ACUI Region V Conference in Iowa, November 2019.
Jenilee Smith (Warhawk Alley Student Manager) is a part of the second Leadership Certificate Class in May 2020.
To contribute to the Student Success Campaign in honor of Kim Adams' retirement, please select "tribute gift" and type Kim's name into the box below. Thank you for your support!
For More Information About the UC